Puerto Vallarta fishing is one of the most exciting watersports that we offer here in Mexico. If you're coming to Puerto Vallarta to fish your first need to decide on which boat that you should take. The answer to this question is going to be the size of the boat and the number of the people that you have in your group. If you have two to four people one of our 28 foot super panga would be perfect. These are great for the Bay fishing. We also offer 32 foot  Sports Fishers that are up to six people and are great for Bay fishing or even going offshore.  We have 40-foot sports Fishers that are great for Bay fishing for the larger groups or for folks that want to go offshore for the big game hunting. These boats are perfect for 8 people. So I, as you can see what you need to decide on first before looking for Puerto Vallarta fishing, is the size of the boat that you need to rent. Whether it's from two people all the way up to 500 for a large corporate group we can get you out for a fun day.
After you know which one of our boats that you'd like to Charter here in Puerto Vallarta fishing we need to decide what would like to fish for. I get this question all the time. What are we going to catch and where are we going to fish. ?  This all depends on what time of the year that you come down for your vacation here in Mexico. Most of our clients like to come down in the winter months of November, December, January, February, March which can offer some really exciting fishing. During the winter months, we have some great fishing for sailfish mahi-mahi Marlin and much other game fish that we fish for here in Puerto Vallarta fishing. Most of these trips are for 8 hours as the pelagic fish will be roaming offshore and we need eight hours to get out where they're feeding.  The bay here in Puerto Vallarta is one of the largest in the world.  The fall fishing is also really ridiculous good here offshore.   The  Bay fishing is some days even the tuna are right here inside the bay and make for incredible  Bay fishing is incredible during these months.  We have the yellowtail, mahi-mahi, Spanish mackerel that are feeding, roosterfish and even some of the Snapper. Some days even the tuna is right here inside the bay and make for spectacular  Bay fishing.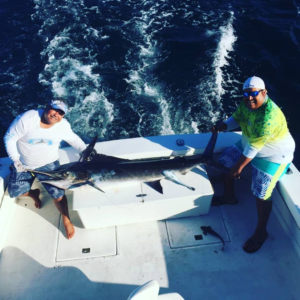 Puerto Vallarta fishing summer months are also really great for fishing inside the bay we have a lot of the same action as the fall fishing but usually a lot more fish. If you're coming to Puerto Vallarta fishing in the summertime and want to get out offshore for some of the big game then you're looking at some of the blue marlin black marlin, sailfish, and mahi-mahi the fishing is incredible this time of the year for fishing offshore.
Now that you've decided to try Puerto Vallarta fishing how do you find a good boat?  Most people start on the internet.  You can look around and then of course look at some of the reviews. Best bet for finding a good charter boat is I would say look at the reviews and then their website. Then, of course, Facebook as that is where people that are posting pictures every day on Facebook or catching the fish. The best way to see if it's a good match for you your family or friends is to call and speak with the owner or Captain.  Make sure they understand what you want to fish for, the right boat and last but not least a good crew. If you do this you will surely find the best fishing boat for you and family/friends. Here at Puerto Vallarta fishing, we offer a toll-free number 800 430 6048 to call us before you come down or book any boat.  You can speak with one of our Representatives., Captains or owners. Please send us an email or call our toll-free phone number before coming down to make sure we can get you out on the right boat at the right time for a fun day here in Puerto Vallarta fishing.
Capt. Pete
Puerto Vallarta fishing
for more info please see: https://www.travelvallarta.com/fishing-questions-puerto-vallarta/