While you may have plans to spend some of your time in Puerto Vallarta relaxing on the beautiful beaches and taking in the culture, you may also have fun experiences out on the water in mind. Travel Vallarta is your best resource when you are interested in fishing charters in Puerto Vallarta, and we can help you to create the perfect deep sea fishing experience for you or for an entire group. Our team makes it easy for you to have the ultimate time on the water regardless of how large or small your group is.
Vallarta fishing charters & tours from Travel Vallarta gives you the opportunity to choose from several different charter fishing experiences. All chartered experiences will take you away from dry land in a comfortable, well-equipped and completely safe vessel. All of the gear that you will need for your fishing charter will be provided, and you will also have the expert insight of a great fishing guide to assist you. All you have to do is step on board and be ready to have a wonderful day. We want your time on the water to be enjoyable and relaxing, but we also want it to be fun and exciting. Our crew goes to great lengths to help you make your Puerto Vallarta fishing experience something to remember.
While there are other fishing charters in Puerto Vallarta, Travel Vallarta is the travel and charter company that you can reach out to for access to an excellent range of charter and tour experiences. You may want to go fishing in Puerto Vallarta for a few hours or for the entire day, and we can help you to plan the perfect experience for you. Take time to research the options available, and contact us with any questions. We are excited to be a part of your upcoming trip to Puerto Vallarta.
Puerto Vallarta world-class fishing experience
Fishing
Puerto Vallarta is arguably one of the most beautiful and exquisite places in the world. If you are a sport's fishing aficionado or just want to try something new and exciting Puerto Vallarta Sailing and Sport fishing is just what you are looking for. Puerto Vallarta has many fishing areas: The bay , morro, el faro, Cortobena, El Banco, Las Marias and many other places. These spots are home to some of the most extraordinary and exotic fish in the world and some of the most dazzling natural landscapes imaginable.
Trips
Depending on your needs, you can take short 4-6 hour trips in which you will have the chance to catch yellowtail, bonita, snapper and the Spanish mackerel among others. For those adventurous souls there are also longer 12 hour and overnight trips available where you will have the chance to catch marlin, tuna, sailfish and dorados, just to name a few. The best months to fish are from June to October. But worry not, due to the favorable climate Sport Fishing in Puerto Vallarta is available practically year round. We also have fishing tournaments with cash prizes that attract the best of the best in world-class fishing. Come enjoy great fishing with breathtaking vistas of the Pacific Ocean. This will be an experience you will soon not forget.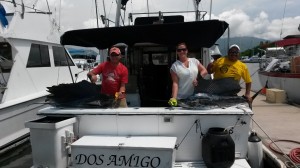 Experience
Travel Vallarta fishing is an American owned and operated business with 28 years of experience providing unparalleled service. Puerto Vallarta is known for its world-class fishing culture and people from all walks of life come to Travel Vallarta for an exceptional and unique fishing experience. We have knowledgeable and experienced staff that will cater to your particular needs. Come visit us and become part of the Vallarta experience!